Nigeria News | Laila's Blog
Singer Ric Hassani reveals reason why he once bought his cook a phone
Nigerian music artiste, Ric Hassani has revealed how he once resorted to buying a brand new phone for one of his domestic workers because his ring tone was much to his dislike.
In a tweet of his, he shared that because he so much likes his peace and quiet, he once bought his cook a new phone because he hated his ringtone.
He wrote,
I so like my peace and quiet, i no like jiggy jiggy. I once bought my cook a new phone because I hated his ring tone. He had one of those small phones that the ringtone sounds like Korean cultural dance. It was stressing my deep thoughts.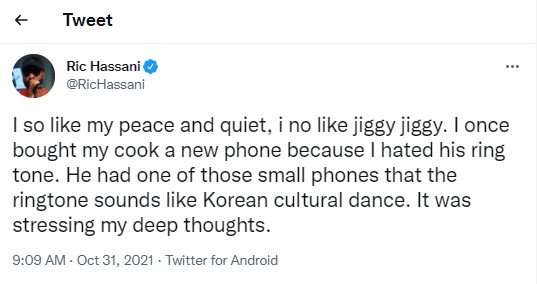 Follow us on Facebook – @Lailasnews; Twitter – @LailaIjeoma for updates
Singer Ric Hassani reveals reason why he once bought his cook a phone
Sanya Agunbiade